Introduction to the Shezhuang temple
The Shezhuang temples is situated in Pudong, in the Shezhuang village in Jin Qiao district. It is not clear when it was first established. Tradition says, that it was established at the end of the Ming dynasty by local villagers to … remember the Old Master Jin who became a martyr by saving the people from starvation. Therefore, Old Master Jin is the main deity of Shezhuang temple. He is also an example for a popular deity of the category of divination because of merit, what in ancient China was called: "If there is merit, the people will offer sacrifices".
The special religious activities of the Shezhuang temple comprise a yearly temple fair on the 10th of the third month of the lunar calendar and the birthday celebration for Old Master Jin on the 13th day of the sixth month of the lunar calendar.
The location of the Shezhuang Temple Shanghai
The Shezhuang Temple Shanghai is located on Jin Xiu Dong Lu between Huang Yang Lu and Hong Feng Lu. Currently it is amidst a large unpopulated area opposite of several high end compounds on the other side of the Jin Xiu Dong Lu. The whole area between the temple and Jin Qiao Lu is currently under development in connection with the new Middle Ring elevated road on Jin Qiao Lu.
The Shezhuang Temple fair
The temple fair of Shezhuang Temple Shanghai was also called the temple fair of the 360 activities. According to the people, among the 360 businesses, farming is the first. This embodies the deep feelings for the soil that originate in the agricultural society of ancient China.
On the first and fifteenth of every month there are several additional temple activities which draw the public.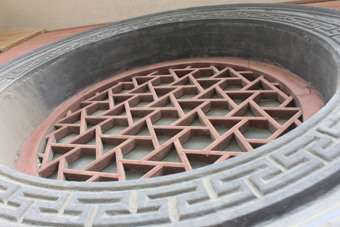 New Shezhuang Temple
By the way, the temple is to be refurbished and updated while at the same time the whole area surrounding it is being developed. Here is a preview:
Anschrift:
Shezhuang Tempel Shanghai
Jin Xiu Dong Lu (Ecke Hong Feng Lu)
Postleitzahl :201206
Telefon :58992664
Anschrift (PinYin) :
shàng hǎi shè zhuāng miào
jǐn xiù dōng lù (hóng fēng lù kǒu)
pǔ dōng xīn qū, shàng hǎi shì
Address in Chinese:
上海社庄庙
地址:上海市浦东新区锦绣东路(红枫路口)
邮编:201206
联系电话:58992664
Website: http://shszm.org